CARING FOR RESIDENTIAL AND COMMERCIAL LAWNS IN SPRINGFIELD, NIXA, AND OZARK.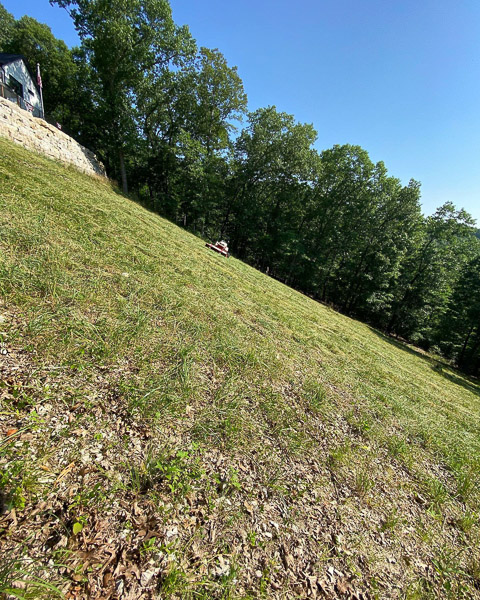 FULL SERVICE LAWN MOWING AND WEED TRIMMING FOR HOMES & BUSINESSES IN SOUTHWEST MISSOURI.
Weed trimming now included with every mowing job.
Denbow Lawn employs a professional and experienced team of mowers to handle any residential or commercial job. Our knowledge and experience, paired with professional mowing equipment, gives us the ability to tackle any lawn in Nixa, Ozark, Springfield, and the surrounding Missouri area. We are always open to fulfilling special requests and guarantee a clean yard with clipping pickup and removal.
Clients in Southwest Missouri have trusted Denbow Lawn to provide professional lawn mowing services for more than 10 years. Our estimates are always free and require no obligation… So feel free to reach out and we will be happy to provide a quote.
Slope Mowing - Going where others can't
The slopes and hillsides of the Ozarks are beautiful, but maintaining them can be very dangerous if you're mowing with the wrong equipment. At Denbow Lawn & Land, we have Ventrac equipment that offers safer solutions for slope mowing up to 30 degrees (58% grade). Ventrac Tractors exceed ANSI B71.4 Stability Testing and offers:
Flex Frame
Weight Transfer
Dual Wheels
Low Center of Gravity
Floating Attachment
Performance Engineered Tires
Optional Slope Gauge
A more efficient piece of equipment means less time spent on mowing and less money out of your pocket!